Hi there, good morning. Here's a question for ya.
What does Tim Urban and William Zinsser have in common?
They both can take a piece of extremely convoluted topic and produce something that is a joy to read by processing it through an inbuilt computer — their brain. Interestingly, the 198 page spanning document I was reading about recently was on Neuralink and Brain-Machine Interfaces, written by Tim.
In one of the chapters, Tim kidnaps a fictional character named Bok who is supposedly our ancestor from 50,000 years ago, and brings him to 21st century. Bok is whizzed past all the inventions we've had since his time: airplanes, submarines, telescopes, TV, iPhone. Finally, after Bok is thoroughly flabbergasted, Tim shows him how we converse with each other today. Take a look below.
…
That image of a disappointed Bok made me think about an even more disappointing topic: we have taken great strides in dissipating information out to the world but are still walking baby steps in the way we consume and retain information.
I sat down at 4:00 PM yesterday to write this article, and by the time I was 90% complete, it was 9:30 PM. Initially, I wanted to limit it to just talking about FOMO, but I realized just how interconnected it all was: information overload, FOMO, building a second brain. I couldn't help it. So, I made it a two part series.
In Part I, I will talk about the rise of information overload and how you can be mindful of the content you consume. In Part II, I will walk through how you can retain and reuse the content that you end up consuming mindfully, with the use of technology.
Read the rest of the article here. I think you'll really like this one.
---
Here's an app that will make you more grateful ☺️
I found out about HappyFeed when I was searching for a voice-to-text journaling app on ProductHunt. I've tried all forms of journaling: writing in a diary, speaking into a recorder, typing on a computer. Nothing stuck. I'm still on my quest to find (or build) a voice-to-text journaling app, but now my quest for a gratitude journaling app is over.
A few things to love about this product:
a) Terribly simple interface: So simple that you are not distracted by anything other than typing the three good things of the day. That's the sign of an effective app.
b) Daily reminders: Instead of a standard push notification, every day the app reminds you with a fun fact or a prompt.
c) "Extra special" days emoji: We all have those extra special days when something truly memorable happens. For those days, you can tag it with a special emoji which pops out in your calendar as you look back over the weeks.
Overall, it gets the job done. Gratitude journaling is proven to work. Here's a testimonial from the Founder - Matt Kandler - himself. "Believe it or not, Happyfeed was originally just an experiment to learn how to code iPhone apps. Nearly 7 years later, it's a pretty robust journaling app! I've been using Happyfeed for 1780 days now and I can say it's made a significant impact on my life." I've been using it for seven days now. And lovin' it. Here's a glimpse: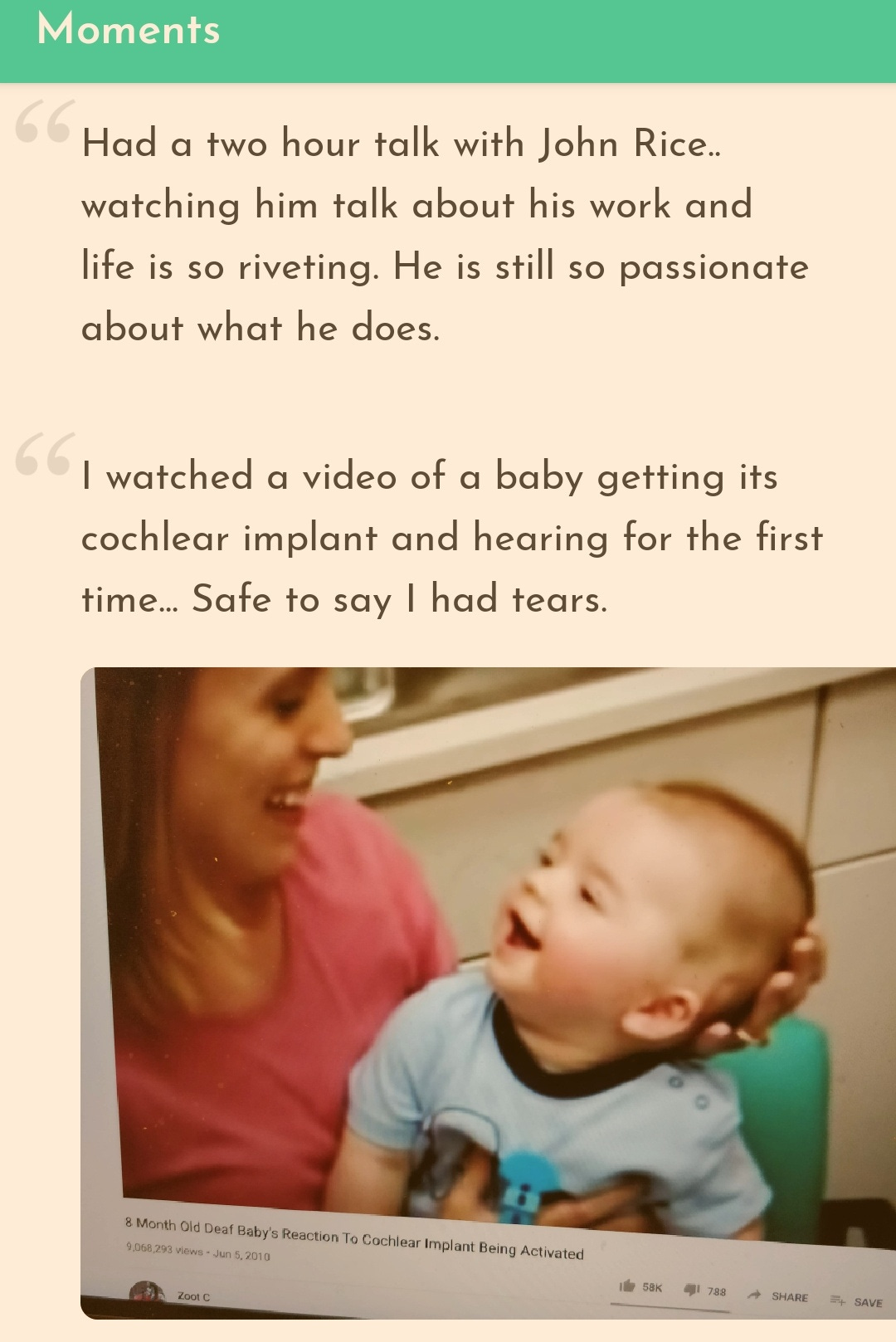 I can't help it. Too emotional.
---
Are you enjoying this so far? Fantastic. Why not tag me in an Instagram story and tell me what you'd like to read about next?
---
Brain food from the internet 🍜
Business: The weird hate-love relationship with Spirit airlines
Spirit airlines wouldn't be a top three favorite for most people. "Who doesn't fly Spirit and have a bad experience? Spirit is just a notoriously awful airline and super easy to make fun of," says a Reddit user. But here's the real punchline: The airline also happens to be a success. "Spirit is consistently incredibly profitable," says Madhu Unnikrishnan, editor of Skift Airline Weekly. This article dives in to explain this enigma. Read more➡️
Product Management: Finding that product-culture fit
We frequently talk about the reality that there is no single definition for the responsibilities of a product manager and that product management roles differ meaningfully across companies. Sachi says the root of this comes from the fact that fairly unique product cultures often develop within each company. While a company like Google is engineer driven, Salesforce is completely driven by well.. the sales force. Understanding the product-culture of the company can be of great help. Read more➡️
Neuroscience: The Thought Experiment
This is an old one, but greatly futuristic for its time. I read through this while reading Tim Urban's book on Neuralink. We all hear about people controlling a robotic hand or leg with their mind. An experiment conducted a few years ago at University of Pittsburgh made this a reality. The researcher who planned it is Andrew Schwartz, a lean Minnesotan whose laboratory occupies a sunlit floor dominated by three gray metal towers of equipment that are used to monitor monkeys in adjacent suites. Read more➡️
Technology: The Zombie Apocalypse Scale
If you work in the sphere of tech, there's a good chance you've come across this debate: Is WeWork a tech company or not? Can Duruk tries answering that with a weird zombie apocalypse scale. "Here's the idea: Instead of looking for a binary outcome for this question, let's agree that tech-companiness is a spectrum. There are probably some discrete stops, but let's ignore that for now. And then, let's establish a quantifiable metric, something that we can compare companies across." Read more➡️
---
Book that's keeping me company 📗
Good Economics for Hard Times by Abhijiit Banerjee and Esther Duflo: Strangely, I don't remember why I badly wanted to read this. But it was a good decision. Abhijit and Esther both recently won the Nobel Prize for economics. In this book, they break down some of the most incomprehensible topics of today: trade, immigration, inequality, and more. Mind you, every page in this book is packed with case studies and insightful ideas. So if you plan to pick it up, don't rush through it. Consume 30 pages every day and mull over them after you close the book.
---
Hi there! If you're feeling generous, can you like this post on Substack? It would greatly improve the visibility. You can follow me on Instagram for fun life stories and LinkedIn for not-so-fun life stories. Email ask@bsoundarya.com for questions.
Aaand.. you're awesome. Don't forget that. :)